Working For Our Future
White Plains Councilman Ben Boykin is an experienced leader with an outstanding record of working hard to enhance our quality of life.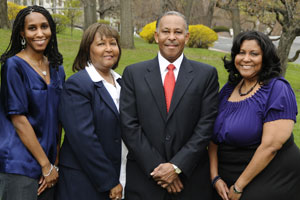 Ben and his wife Carsandra, have lived in White Plains for more than twenty years. Their daughters, Dr. Nicole Boykin and LaSandra Boykin are graduates of White Plains High School.
Ben is working for our future to:
Make our County government more transparent and responsive – Ben wants County government to be more transparent, accessible and responsive to the needs of our citizens. The budget process needs improvement. As Council President, Ben worked to establish Citizens To Be Heard, where anyone may address the Council on a topic of concern. Striving to provide more information, Common Council Meetings are now webcast through the internet and Planning Board and Common Council Budget Meetings are televised.
Implement budgets that protect the most vulnerable among us – The County budget must provide appropriate funding for the safety net and vital programs for our residents who need some assistance.
Reduce the property tax burden on Westchester residents – Ben's record is one of leading efforts to reduce spending through cost controls, consolidations and efficiency improvements to keep property taxes low while continuing to maintain and deliver high quality services to residents.
Provide adequate funding for the safety and security for our citizens – Ben supports appropriate funding for our first responders to protect our residents. The best training and most advanced equipment must be available to our first responders to prepare them to address any situation.
Provide opportunities for economic development and job creation – Ben was instrumental in the $1.2 billion reinvestment and redevelopment of downtown White Plains. Ben understands that the economic future for Westchester County is dependent upon balanced investment and attracting and retaining businesses that create jobs while protecting our environment.
Protect our environment – Ben has a record of supporting initiatives to reduce carbon emissions, add green technology in development projects and purchase vehicles that use alternative energy sources.
Enhance our quality of life by improving coordination and working relationships between County government, State and Federal governments and local municipalities to tackle and solve mutual issues – Ben believes that all levels of government must work together to address issues such as unfunded mandates that increase our local property tax burden. All governmental entities, working together, must solve flooding issues, infrastructure projects, transportation issues and the isssues relating to the changing demographics in our County.
Experienced leadership:
Ben is a business owner with nearly thirty years of governmental and educational service.
White Plains Common Council Member since 2000
White Plains Common Council President (April 2011-Dec 2011, 2008-2009 & 2002-2003)
Chairman, Shared Services Committee
Former Chairman & Member, Budget & Management Advisory Committee
Vice President, White Plains School Board 1998–1999
Member, White Plains School Board 1992–1999
Board of Directors, White Plains Outdoor Arts Festival
Board of Directors, Meals-On-Wheels of White Plains
Past Treasurer, Lois Bronz Child Development Center
Member, Union Baptist Church
Member, Omega Psi Phi Fraternity

Professional/Education:
Certified Public Accountant
President, Ben Boykin & Associates
Former Assistant Treasurer, Nabisco, Inc.
Former Trustee, Bennett College
MBA with Honors, Kellogg Business School
B. S. in Accounting, University of North Carolina, Phi Beta Kappa